Latex. A shiny, tensile, tight-fitting material with special sex appeal and tingling eroticism vibe. What to do if tight-fitting latex is not your cup of tea yet you wish to use shiny latex fabric in your everyday clothing? Have you ever heard of the best alternative to rubber clothing available on the fetish market since 2012? It's called datex.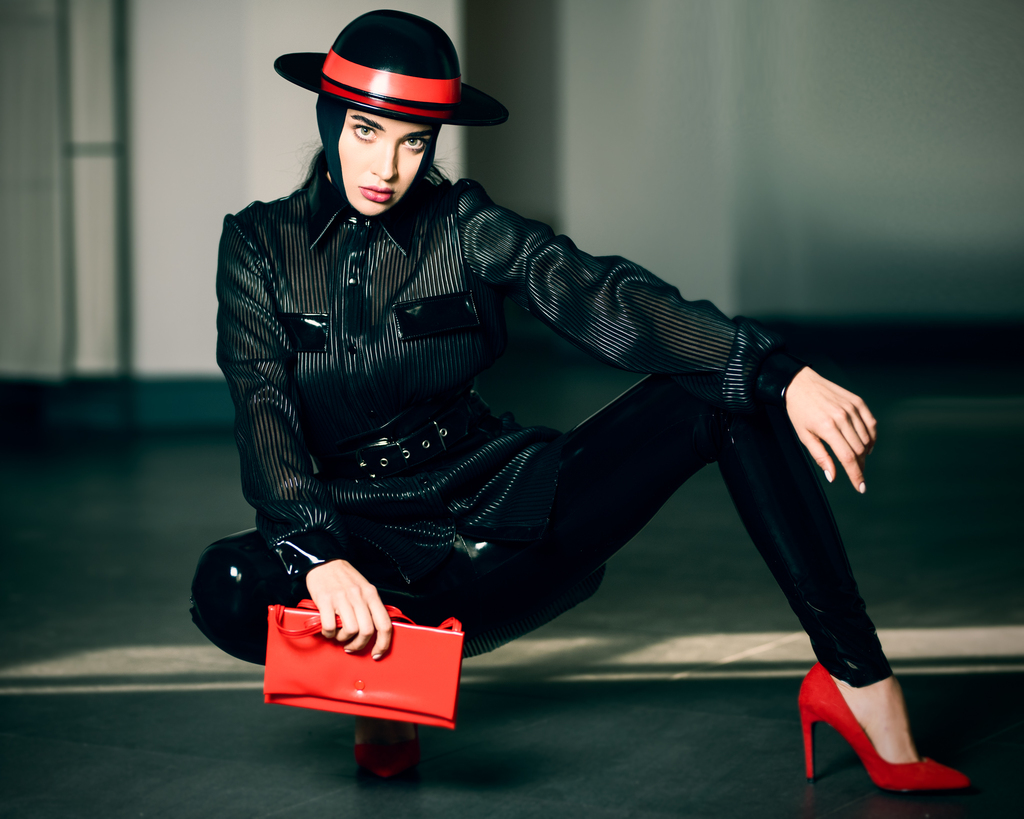 Ledapol as a latex fashion designer brings fetish fashion clothing to a new level
Latex fashion shines bright like a diamond
We all love exclusive latex clothing. Worn on special occasions like erotic evening or intimate moments with a partner, makes everyday life extra special. Ladies enjoy when fetish wear emphasizes their every shape and curve. That makes them feel erotic self-confidence but also invites seductive aura to the bedroom. The sound when you touch latex fabric is uncanny. It makes your body twitch, spasm and twist. The body feeling of tactile sensation has an enormous effect on both, the one wearing and the one interacting with it. Its clinginess is what makes people love it as it comes off as a second skin. The visual factor is an another level of seduction. Just anyone, even a non-fetishist, will be drawn to latex rubber clothing because of its extraordinary charm, wet shine, erotic strength, seductive touch and pure lust.
Datex - experience pure eroticism in fetish clothing
This is how latex and fabric are combined in a consistent material - datex
Datex - what is it?
Datex is a brand new material made of natural caotchouc and very extensible knitted fabric, created and patented entirely by Ledapol in 2012.
But wait... Is datex the same as latex?
No, datex is not the same as latex. Elastic fabric on the inner side makes datex easy to put on, what is more: without any additional dressing aids and conditioners. Datex makes you feel comfortable and ensures traditional latex quality at the same time.
Datex - care instructions
A huge advantage that datex has is the maintenance. Datex, as well as latex material, needs a proper care. The difference between them lies in washing. Latex cannot be washed but datex even should be washed. If you've just finished an erotic moment in yor datex evening dress, just pop it in a washing machine at 40 Celsius max. However, do not iron, clean with chlorine nor clean it chemically. The maintenance of datex after that is basically the same as latex garment.
Datex - how to keep gloss shine on everyday wardrobe?
Datex and latex clothes cost a lot of money but once you invest in high-quality erotic clothing, which we recommend to do if you want to wear latex or datex for years, it's worth every penny. We cannot think of anything better than seductive latex stockings paired with latex body and knee-high latex boots. This skin-tight fit will turn an elegant evening into a raunchy night when the body temperature raises above the ceiling. With the right treatment latex shines beautifully and ignite erotic charm.
How to wear latex and datex to make them look good and skiny?
This type of clothing stays beautiful thanks to silicon-base wetting agent. It shines datex and latex dress, knee-high latex boots, skin-tight leggings, latex catsuits, latex sheeting and all types of latex lingerie. Wearing latex clothing is a special moment. Would you wear latex pants for a date? Would you dare to put a datex evening dress to an elegant evening? Don't forget to be prepared.
Datex - the clothing clings to other latex fetish wear. How to protect latex clothing?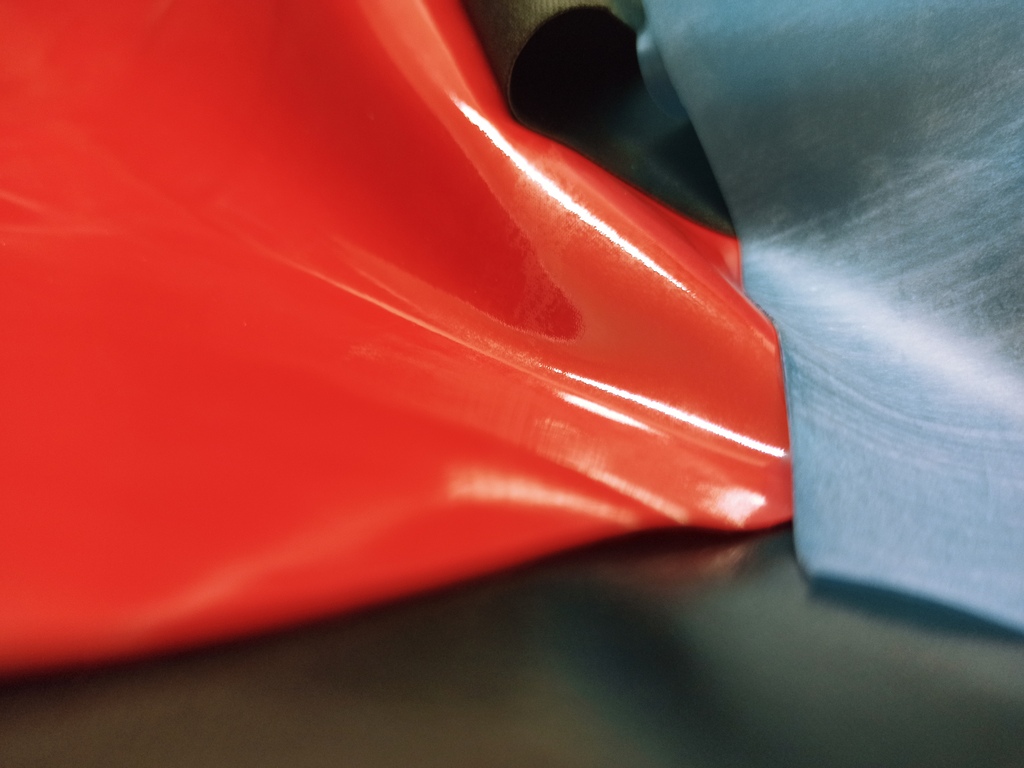 Would you dare to wear erotic latex lingerie? 
After the usage datex and latex clothing stays in an airy ans shady place, away from chemicals, sunlight and humidity. We insist not to keep sexy fetish clothing in one box but if you cannot afford to make a closet dedicated only to latex fashion, try this very easy tip out. If you've got a huge latex clothing collection and want to storage them properly just use... talcum powder. Before you put elegant evening dress, skin-tight latex suit, latex sheeting, latex pants and flared latex dress in one container, dust each one and this way they won't stick to one another. It'll also prevent latex and datex from getting stiff and breakable over time.
Is datex better than latex?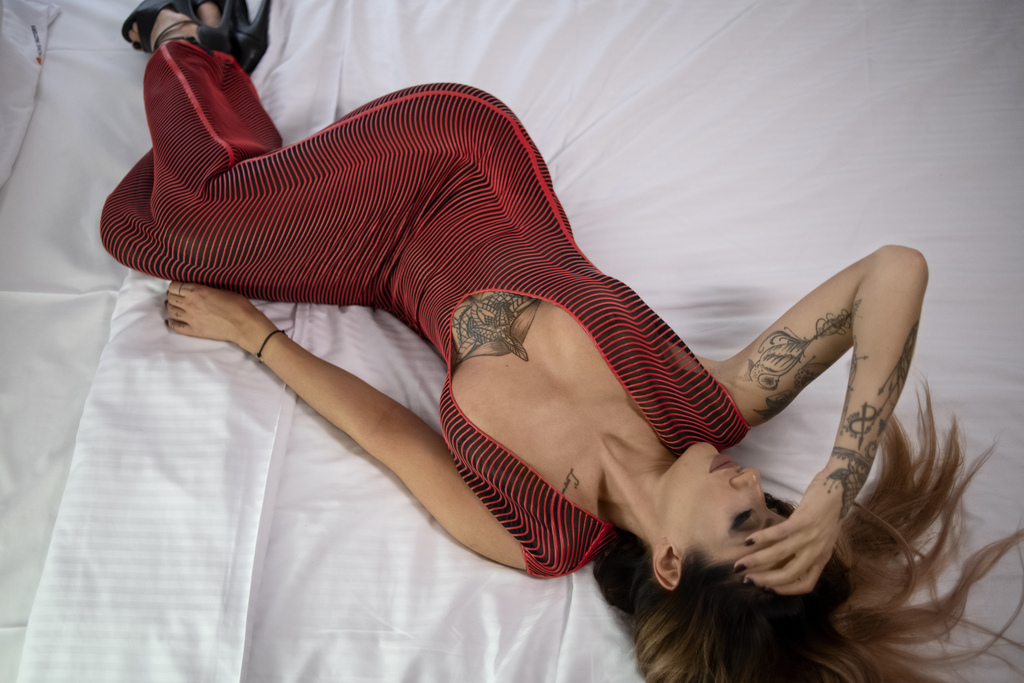 Latex fetish model in a shiny latex fabric
On the outside, datex and latex look the same. On the inside, it's latex clothing clings to your skin or comfortable textile that let you move more freely. Some people like the way they feel in latex - how their skin sweats and sticks to the material, the body temperature properties while wearing latex in a hot day. By choosing latex clothing, you go for a classical erotic sensation that latex fabric transfers from body to body. If you choose datex, you want to be comfortable enough to focus on other senses that upcoming encounter may deliver to you. Is latex sensual? Of course. Is datex equally sensual? Absolutely.
Why datex and latex are for everyone?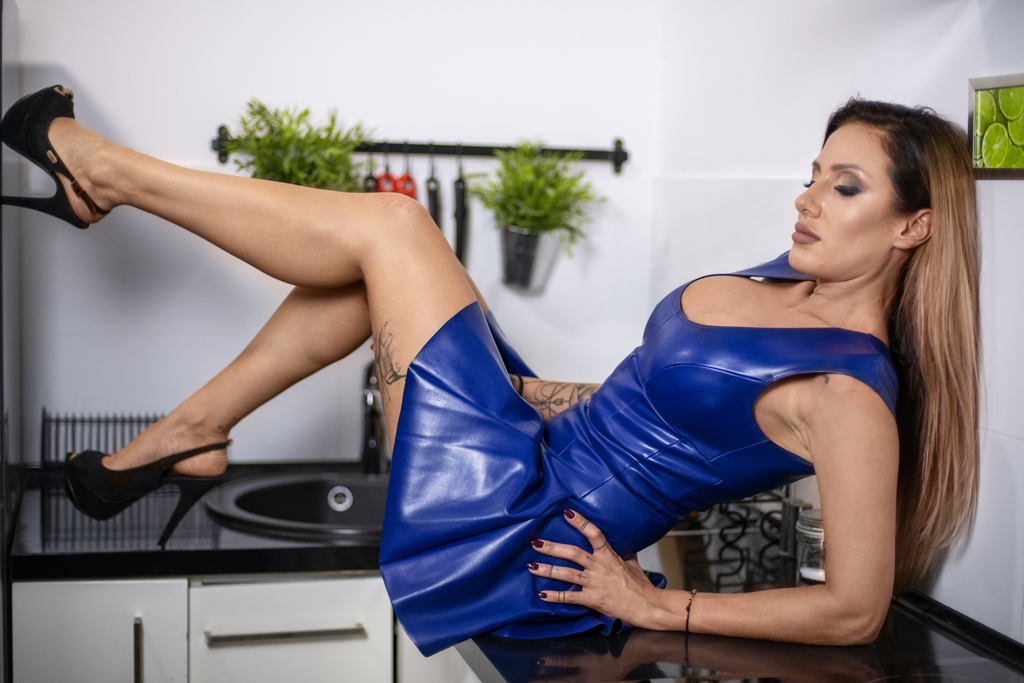 Latex fashion clothing in an innovative version with tulle
Special latex fetish doesn't come from nowhere. Everyone who likes to experience tingling eroticism delivered by skintight latex clothing will wear rubber clothing forever. Either datex or latex will convey self-confidence during an erotic encounter. A fetish model presenting latex lingerie collection not without reason always feels empowered, sexy and fierce which is shown in the photoshoot, on a cat walk or in the movie. That's why people choose to be wearing latex fashion clothing - they want to feel special, they want to catch eyes, they want to be a Nikitzo model. When it comes to sexy ladies latex is a to-go option for one who likes to act as a dominatrix or a wild animal. Men, either wearing men's fetish clothing or buying women's latex for someone else, want to materialise their deep fantasies. In both cases, erotic latex and also datex are perfect for it. Will datex take extraordinary charm of latex fabric over? It's possible. Datex is much more enjoyable to wear. It has all the features latex has - erotic charm, erotic strength , seductive aura, sex appeal, tingling body feeling plus the comfort of use.
The future of datex and latex
Online latex clothing came out from the dungeons. Nowadays, it's in our phones, under our fingers. Isn't latex body perfectly shown in the mainstream? In 2023, most of the super stars in the whole wide world is fully or partially dressed up in latex bodysuits, wear latex pants in everyday life. They perform not only in elegant evening dress anymore but mostly in sexy, provocative leather and latex fetish wear. Pure eroticism is not a tabu anymore nor exclusive latex clothing is intended for BDSM events. People are not ashamed to show who they really are. They may keep their sex or private lives to themselves but there's nothing illicit in using perfect latex clothing to do one's thing and simply be your true self. There are no mo masks in the sociaty... only latex masks available in our online fetish store, REFETISH.