Fashion is constantly evolving, and new trends emerge each year to redefine our style choices. In 2024, PVC (Polyvinyl Chloride) is making a major comeback, taking the fashion world by storm. PVC fashion has been gradually gaining popularity over the years, and it's set to dominate the fashion scene this year. Whether you're into edgy, bold statements or looking to add a touch of futuristic elegance to your wardrobe, PVC is the go-to material. In this article, we will explore the exciting PVC trend of 2024 and discuss some must-have PVC pieces, including PVC shorts, PVC skirts, and PVC bodies, as part of the latest PVC collection.
The PVC Trend in 2024
PVC fashion is all about pushing boundaries and embracing unconventional materials. In 2024, this trend is set to explode in popularity, redefining the way we think about clothing. PVC, also known as vinyl, is a synthetic plastic material that provides a glossy, slick look. It's no longer just associated with raincoats and fetish wear; PVC has evolved into a versatile fashion statement that can be worn in various settings.
Fashion designers are embracing PVC in their collections, and this shiny material is making appearances on runways, red carpets, and street style. The PVC trend in 2024 is all about experimenting with different styles and creating unique, eye-catching outfits that reflect your personality.
Must-Have PVC Shorts
PVC shorts are a hot commodity in the 2024 PVC fashion trend. They offer a bold and playful look that is perfect for the warmer months. PVC shorts are available in various colors, including black, red, and vibrant neon shades, allowing you to express your individuality. The glossy finish of PVC adds an edgy and futuristic twist to your shorts collection.
For a casual daytime look, pair PVC shorts with a simple crop top and sneakers. To take your style to the next level for a night out, opt for PVC shorts with embellishments or a metallic finish, and combine them with a statement blouse and high heels. These shorts are not only stylish but also waterproof, making them a great choice for pool parties and beach vacations.
The Allure of PVC Skirts
PVC skirts are another key element of the 2024 PVC fashion collection. They are available in various lengths, from mini to midi and maxi, catering to different preferences and occasions. The high-shine surface of PVC skirts adds a touch of glam to your outfit, making you stand out in a crowd.
PVC skirts can be styled in multiple ways. For a chic and sophisticated look, pair a PVC midi skirt with a tucked-in blouse and heeled ankle boots. If you want to go for a more casual vibe, go for a high-waisted PVC mini skirt, a graphic tee, and sneakers. The versatility of PVC skirts makes them a must-have item in your wardrobe for 2024.
Unleash Your Inner Confidence with PVC Bodies
PVC bodies are a trend-setting piece that is taking the fashion world by storm in 2024. These fitted, glossy one-piece garments accentuate your curves, exuding confidence and sexiness. The PVC body is a bold choice for those who want to make a statement.
Pair your PVC body with high-waisted pants or a skirt for an elegant and refined look. Alternatively, combine it with denim shorts or jeans for a more casual and laid-back style. PVC bodies are available in a variety of colors, so you can easily find one that suits your personal taste and the occasion.
Building Your PVC Collection
To fully embrace the PVC trend of 2024, it's essential to build a collection of PVC fashion items that reflect your style. Mixing and matching PVC pieces with your existing wardrobe can create a fashion-forward look that stands out. Consider investing in a combination of PVC shorts, skirts, and bodies to ensure you have the right options for any occasion.
Remember, it's all about embracing your unique style and comfort level. While PVC fashion may appear daring at first, it's all about expressing your individuality and making a bold statement in your own way.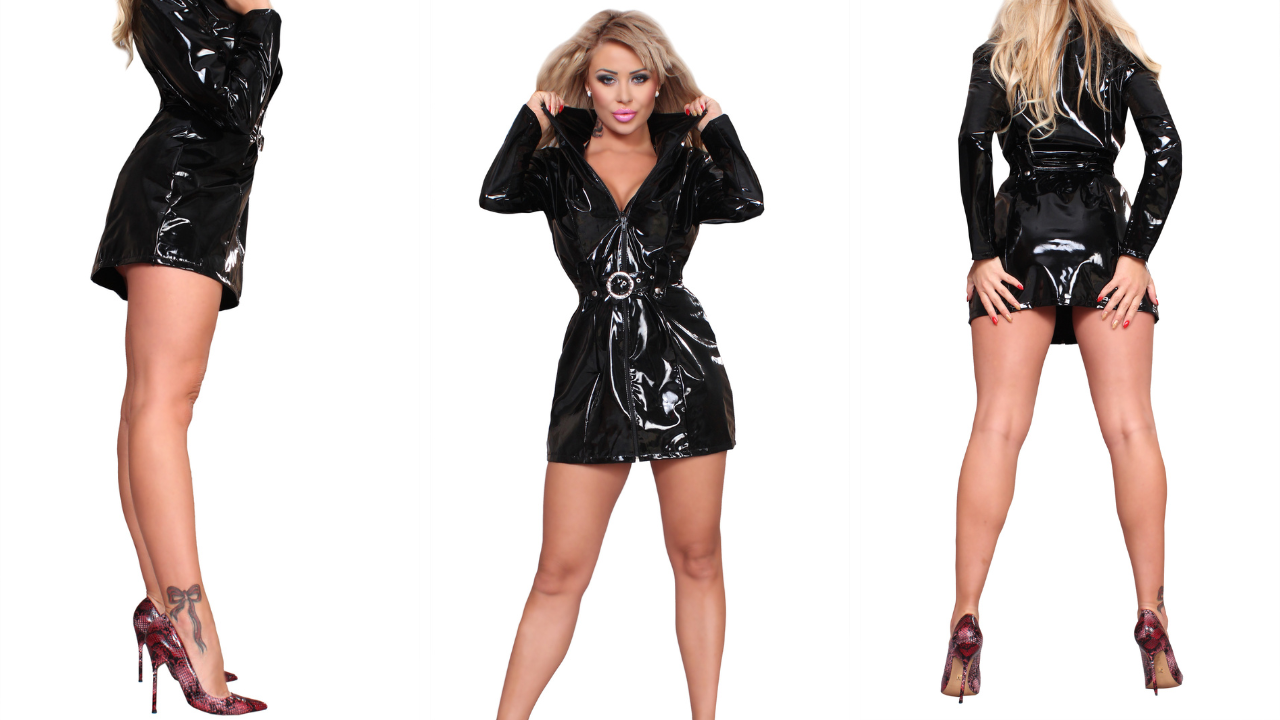 The PVC trend in 2024 is redefining fashion with its bold and futuristic aesthetic. PVC shorts, PVC skirts, and PVC bodies are key elements in this trend that should be a part of every fashion enthusiast's collection. The versatility of PVC allows for endless styling possibilities, making it an exciting addition to your wardrobe. As you explore the PVC fashion trend in 2024, embrace your inner confidence and express your unique style through this edgy and innovative material. Get ready to shine and make a fashion statement with PVC!