PVC clothing requires more attention. It's not only a fetish material associated with the adult industry but also a strong fashion statement initiated by science, economy, and fashion. There would be no Angelina Jolie in a PVC overbust corset or Trinity in a black PVC catsuit if not for the prior economic collapse and the first man in space. Every confident person in the history of fashion wore black PVC clothing, and that has not changed.
The beginning of PVC. Who and how was vinyl chloride invented?
There wouldn't see PVC pants, sexy PVC boots, classic hooded PVC raincoats that we know from the movies, or colored PVC garments that catch our eyes on music video clips, if not for two scientists from the XIX century. French physicist, Henri V. Regnault followed by German chemist, Eugen Bauman left vinyl chloride exposed to sunlight, which ended up as a white material, impossible to work with. They both dropped this project and have never tried to reactivate its hidden potential. It took a few decades and a great economic downfall to find polyvinyl chloride useful.
In 1929, the Great Depression pulled down the international economy and changed the course of PVC. One of the leaders in the American tire industry, BF Goodrich, hired Waldo Semon, who was supposed to develop a cheaper synthetic alternative for the expensive natural rubber used in tire production. Waldo turned the polymer of vinyl chloride into a flexible plastic that became commercialized as a construction product for the coating of electrical wires and cables. This innovation played a huge role in the upcoming Secodn World War. But, since PVC has finally become a jellylike material that is easy to work with, fashion designers took an interest in shiny plastic that would pave the way for the 1960s fashion trend.
From coating wires with plastic polyvinyl chloride to PVC-coated textiles
PVC was the innovative material used during the Great Depression and the Second World War. It was cheap, easy, and fast to make. It covered the economic gap created by expensive natural rubber. It was also an inspiration for fashion designers working in the 1960s, when the first man in the world entered space and the full potential of PVC fabric was just about to be discovered.
Space Age - the most futuristic fashion era
The Space Race between the US and the Soviet Union had a huge impact on global society and culture. In 1961, when a Soviet cosmonaut named Yuri Gagarin, entered space for the first time in human history, a real fashion space race began. People felt like humanity had finally reached the stars, and that was the time to bring them down to Earth in a fashionable way.
Paco Rabenne - the intro
The Spanish designer was the first in  history to use shiny plastic clothing, including PVC. In 1964, he made his first worldwide known collection called "12 Experimental Dresses" followed by "12 Unwearable Dresses" in 1966. Both collections included plastic, metal, leather, and synthetic materials, which were almost impossible to wear by people at that time and definitely controversial.
André Courrège - the first genuine PVC clothing collection
The French designer created the legendary collection that initiated further vinyl fashion. Fashion magazie Vogue called it "Moon Girl" collection due to the iconic white moon boots. The Spring 1964 collection of vinyl clothing, including red PVC dresses, red PVC skirts, white PVC sandals and boots, started a true PVC trend movement that carried on all around the world.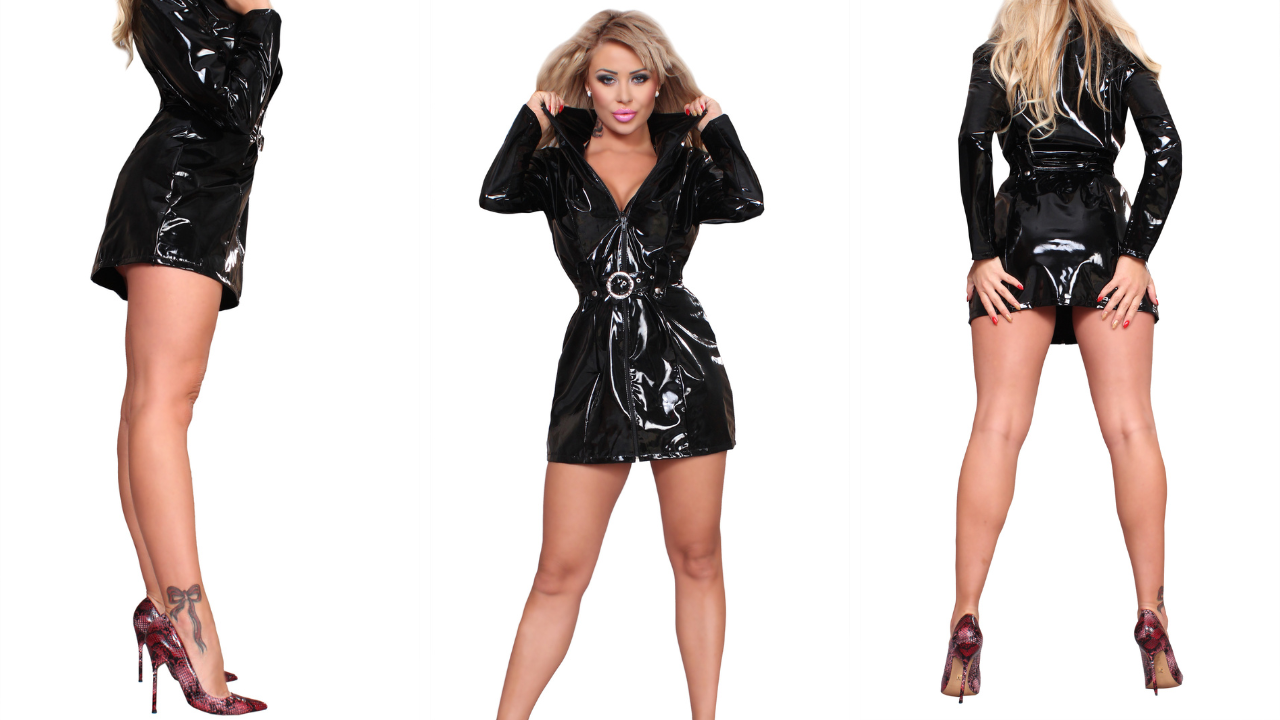 Pierre Cardin - "cosmocorps"
The French designer also started off in 1964 with his collection "cosmocorps". Unlike his fellow colleagues in the fashion industry, he showed his gorgeous ladies wearing PVC clothes in a daring, cosmic, sci-fi way. Vinyl fabrics had colors and cosmic shapes. The models looked like they were ready for a space party in their vinyl pants, geometric dresses, silver stockings, white boots, and spaceship-looking hats. The time of celebrities wearing PVC entered the time line.
Mary Quant - PVC sandals
The English designer revolutionized the shoe department with her "Quant Afoot" collection, which is to this day known as a part of the historical PVC clothing and footwear fashion era. After 3 years of Space Age fashion and trendy PVC clothes, Mary Quant put shoes first as her favorite PVC items in her work. They came in a range of colors, from the red fabric layer used in ankle boots to the amazingly sexy PVC boots that, at that time, were paired mostly with mini vinyl dresses and skirts. To this day, a yellow and red PVC outfit cannot be completed without a pair from "Quant Afoot".
Sexy clothing for sexy people - PVC debuts in movies
Shortly after flexible PVC products became a part of the fashion industry, they crossed paths with another great industry: the cinema. Favourite PVC items started being worn by the most famous stars of the big screen, and at that time, the biggest one was definitely Audrey Hepburn. Wearing a black PVC suit in "Two For The Road", made by Paco Rabanne, was a bold fashion statement since PVC, plastic, and latex clothing were still frowned upon in society. But that didn't stop a French actress, Catherine Deneuve, in "Belle de jour" who wore a black PVC trench coat made by Yves Saint Laurent. It is believed that her role as a secret enthusiast of BDSM and a prostitute, cheating on her husband, made PVC and sexy latex outfits associated with debauchery, indecency, and immorality.
Colorful and plastic layer of the 90s
PVC clothing disappeared from the movie industry for a number of decades. Its big comeback happened when Mira Sarvino and Lisa Kudrow met on the set of "Romy and Michele's High School Reunion". These two turned heads in their edgy outfits, including flexible PVC. Sarvino made history with her appearance in a red PVC coat that matches the fashion trends of every era. Shiny clothing worn by Romy and Michele is already a canon of PVC fashion.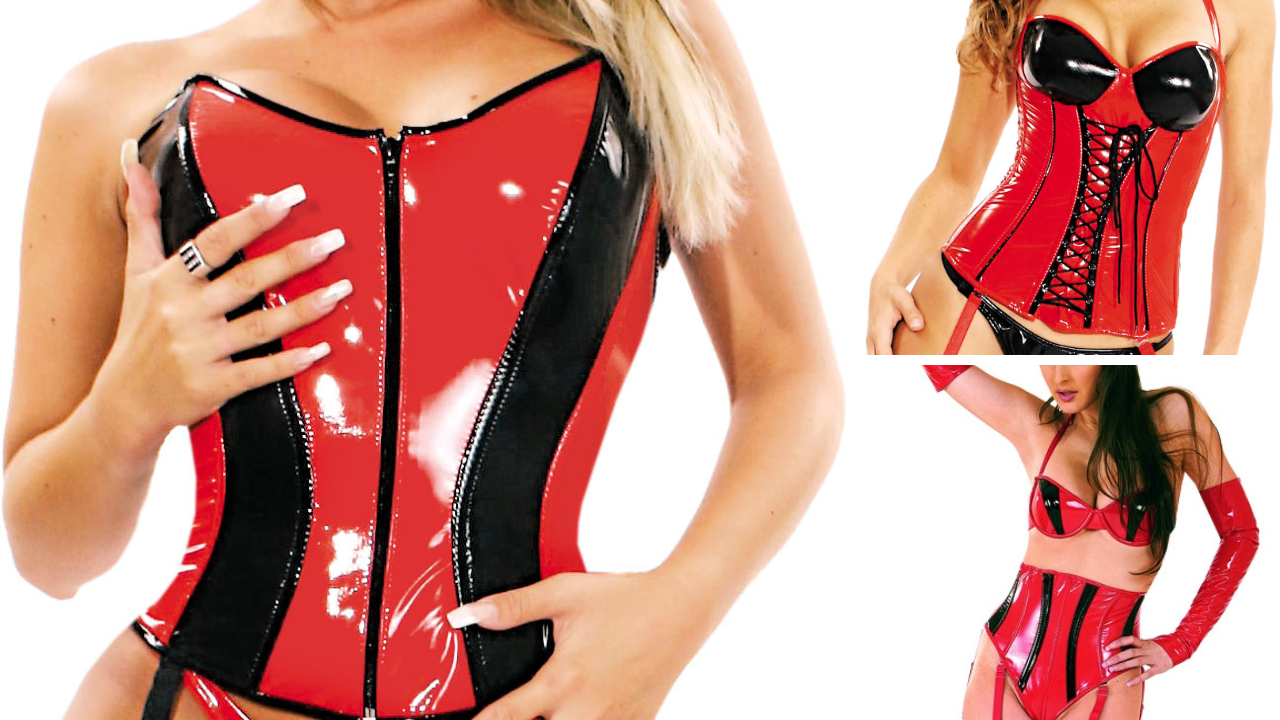 "Matrix" - how wearing black PVC gave power
"Matrix" changed the rules of action movies, and black PVC coats changed the rules of movie fashion. When Wachowski's movie entered cinemas, everyone wanted to wear PVC plastic clothing, including a black PVC catsuit and black PVC pants, not to mention a black PVC maxi coat. The underdogs of the futuristic and hostile world, who wore black PVC costumes, turned into undefeated super warriors, saving the pieces of the lost and forgotten world of humans. Since then, the one wearing a black PVC outfit in the movies has been associated with power. PVC clothing isn't only about the look anymore; it's also about courage and force. Those qualities are also shown 6 years later in "Mr.&Mrs. Smith" where Angelina Jolie, a professional assassin, wears a PVC overbust and not only looks sexy but, most of all, is fearless. Seeing Jolie in an overbust corset makes vinyl fabrics continue to attract, shock, and draw attention.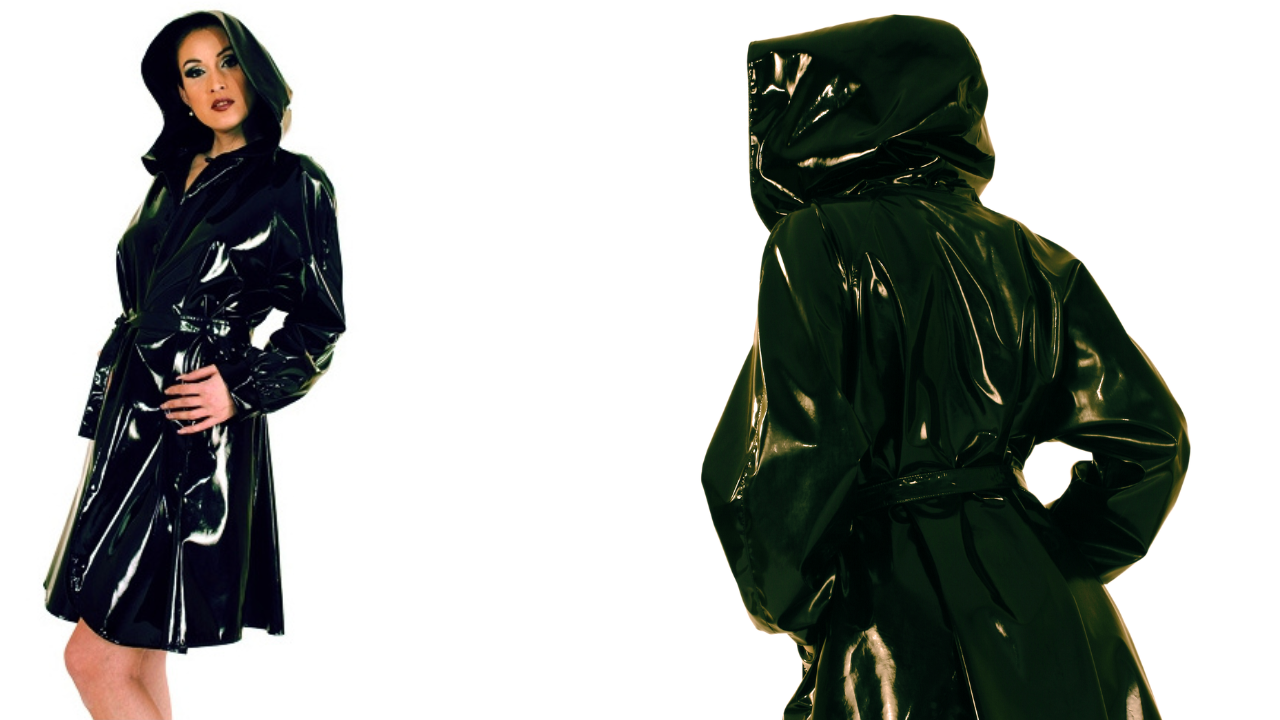 2018 - the year of PVC
Again, after almost 20 years, leather alternatives have taken over the fashion industry. 2018 was the year of a big comeback for PVC pieces. We all remember Yeezy PVC boots or transparent PVC Jimmy Choo x Off-White Shoes for Women collections. High-fashion clothing requires bold and courageous footwear and both of the designers PVC have made themselves apt at doing it. Buying PVC in 2018 meant wearing footwear by ferocious designers. Both, Kanye West and Jimmy Choo are known for their untamed spirit, which matches fashion dynamics in the XXI century.
The future is here
People wearing PVC clothes are sure to be remembered. This material is still considered controversial and frowned upon, despite the times we live in now. To wear vinyl clothes means to be confident, courageous, and unstoppable. We want to see a black suit worn by a woman, a PVC corset worn on the street, PVC coated textiles in clothing accessories, or sexy PVC boots on the international stages worn by the biggest artists. We also want to see you as a strong individual in one of the PVC items purchased in our shop.